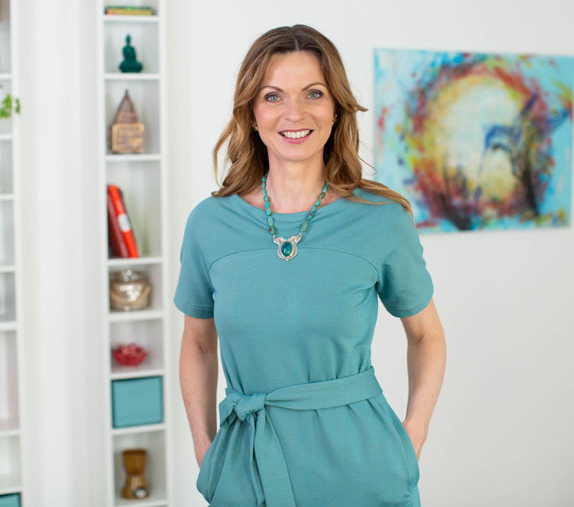 EVA'S STORY
---
Eva studied psychology at the Faculty of Arts of Comenius University in Bratislava. She spent the following 12 years in international corporations where she held several positions including international leader-roles in the field of Human Resources.
At the end of 2011, she found herself at a crossroads, thinking through her options of further development, purpose and satisfaction in life. After darkness-therapy under the guidance of Dr. Urbiš in 2012, she set off on a journey that combined entrepreneurship and purpose: she began to focus on deep personal development and started creating transformation programs. Eva guides her clients towards self-knowledge and self-acceptance, the discovery of personal freedom. She consciously supports the establishment of a new culture of leadership – a community of people who understand their unique value, authentically developing their potential and creating mutual prosperity with others. Working with fears, pushing the limits of what is possible and helping to achieve a higher quality of life through balance are among her core activities nowadays. Eva believes in continuous development, she completed 7 stays (over 90 days) in the dark in Celadna – as part of dark therapy, where the longest stay lasted 35 days. Currently, Eva, as the leader of LeadINcenter, is dedicated to establishing the authentic leadership and personal transformation at the international level.
---
She has a degree in psychology and devotes her time also to therapeutic methods.
During her professional carrier she held various managerial positions in the field of HR at the international level.
She completed several stays in the dark, including 35-days' dark therapy in Celadna. She collaborates with PhDr. Urbiš, the founder of Celadna's darkness therapy.
A leader of LeadIN and INcenter companies in Slovakia, she is the co-author of the internationally recognized concept of Atairu authentic leadership.
She specializes in deep self-acceptance and transformation of fears.